Patrons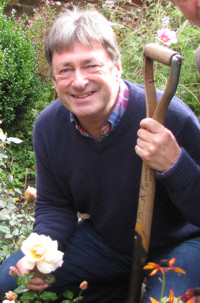 Alan Titchmarsh
Alan is a gardener, broadcaster and novelist. Alan started out as a professional gardener, but is now a well-known gardening journalist and television presenter. Here he is seen planting the new 'Pride & Prejudice' rose at Jane Austen's House Museum in 2013.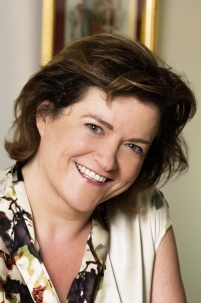 Caroline Jane Knight
Caroline shares more than Jane Austen's name and DNA. Caroline is the last of Jane Austen's nieces to grow up at Chawton House, in the South of England on the estate where her fifth great aunt Jane lived, wrote and published her most famous works. Caroline shared the same family traditions as Jane, the same walks, rooms, furniture and family library – they even ate from the same Wedgwood dinner service. After 400 years, the family gave up Chawton as a home in 1987, when Caroline was 17.
Following a childhood steeped in centuries of Austen Knight family tradition and inspired by her great aunt Jane's legacy, Caroline was determined to be independent and carved out a highly successful career in business. Caroline moved to Australia in 2008 to become CEO of a large marketing agency. In 2012, Caroline was a finalist in the Telstra Businesswoman of the Year Awards and the same year was made an honorary Life Fellow of the Australian Institute of Management. In 2013 Caroline started her own business, The Greyfriar Group, a field marketing and data consultancy which now works with many household brands and clients including Coles and Mind Australia.
In 2014 Caroline founded the Jane Austen Literacy Foundation, a not-for-profit literacy organisation. The Foundation connects a worldwide community who believe in the power of literacy and want to help others, through volunteer programmes working with schools to make writing exciting for kids and raising money to fund literacy programmes in developing communities. The Foundation is run entirely by volunteers and 100% of the money raised is spent on literacy activities and programmes. For more information see www.janeaustenlf.org
Caroline published her memoir Jane & Me: My Austen Heritage in 2017 to share her extraordinary story, and has spoken at Jane Austen, literacy and business events around the world.
Caroline lives in Melbourne with her husband and in between working on her business and running the Foundation, can often be found in her studio making garden art installations.

Deirdre Le Faye
Deirdre was previously a patron, but sadly she passed away in August 2020, aged 86. Whilst we have lost this well-known and respected authority on all things related to Jane Austen, her contribution to the understanding of Jane Austen's works and life will be long-lasting, through her books and papers. She bequeathed her papers to Chawton House, so making her studies openly available to the public.